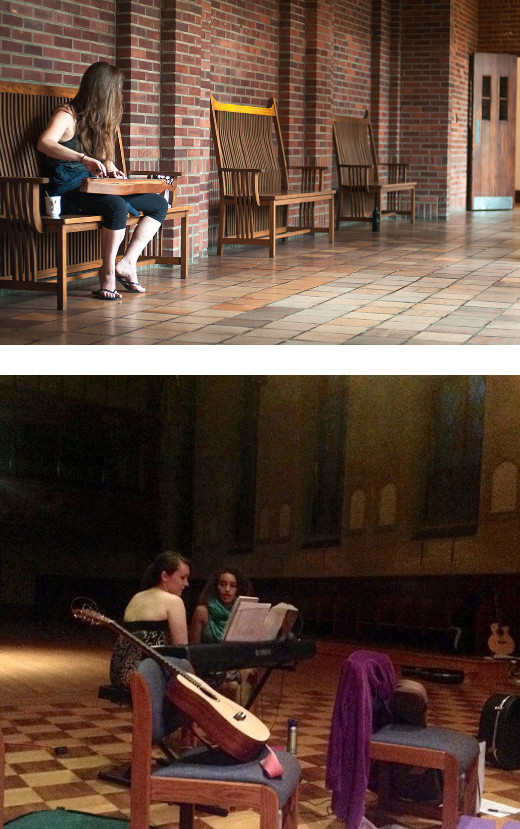 Info & Application
To join us, please fill in the application, including a note about why you'd like to attend, and we'll let you know ASAP if you're in and send you further information on completing your registration. Space is limited to 40 for each retreat. Your $575 tuition includes a preliminary check-in with Kellie, our tech guru, just to make sure every looks and feels smooth. This retreat will also include, as always, instruction from Dar, one-on-one consultations (including one with Dar during and after the retreat), optional yoga, and instructive song circles with staff and other writers. These retreats are great for writing new songs and finally finishing old ones. They are also an opportunity to find your people!
---
Tuition & Payment Information
Tuition is $575 - Payment in full is due when signup is complete
---
Schedule
At 5pm on Sunday we will have a preliminary coffee 'hello' with new retreaters .

At 9 pm on Sunday evening, we will meet the whole group to introduce ourselves and talk about the week ahead!
Starting on Monday morning, we will begin with our daily schedule:


Sample Daily Schedule

9am lift our mugs, say good morning, hear song prompts.

9:15-9:45am Yoga with Lara Voloto

11:00am Dar deconstructs one of her songs, re-shares prompts (for west-coasters and later risers).

11:30am Optional "So-Fab Collab", where we team you up with a partner to co-write.

2:30pm - 4:00pm & 4:30pm-6:00pm (details may vary) – Song-sharing critique circles with instructors/guides, including Monday and Tuesday with Justina Golden for vocal instruction, Wednesday with KJ Denhert, Wednesday and Thursday with Tom Presada-Rao (July), TBA (August). Dar will be doing workshops Wednesday and Thursday.

9:30pm Campfire of song sharing.

11:30pm and beyond… -- Up to you!

Friday will end at 3pm. Starting at noon, we will have a modified schedule for our closing and goodbyes.

Everyone will have an opportunity to do a one-on-one with Dar during the week, and one the week after the retreat, and other instructors will be available for one-on-ones the next week as well.