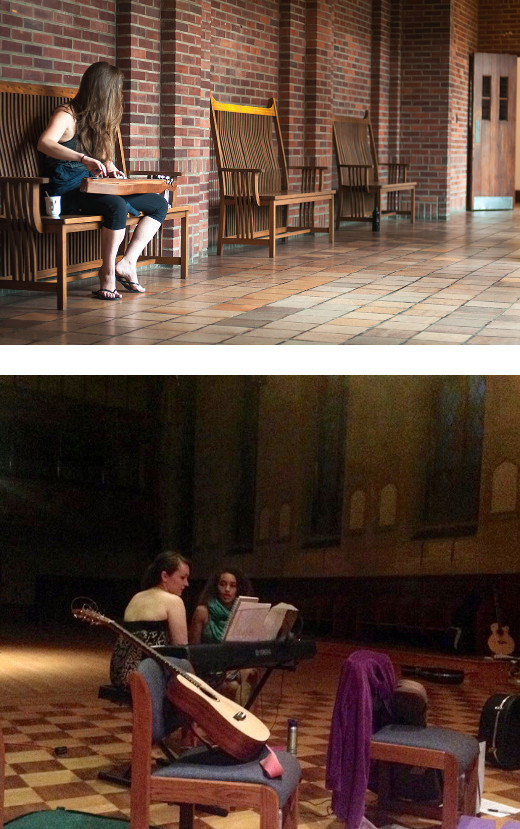 Info & Application
To join us, please fill in the application, including a note about why you'd like to attend, and we'll let you know ASAP if you're in and send you further information on completing your registration. Space is limited to 48 for each retreat. We offer an a la carte format so you can customize your experience. Your $1500 tuition includes: a private single room with a common shared bath (doubles are available upon request), shuttles to and from the train upon arrival and departure, all meals/snacks, optional morning yoga, group workshops (songwriting, guitar, vocals) and a one-on-one private song consultation with Dar. Additionally, we offer optional daily quick trips to local museums and historic sites for inspiration. We swear – you won't need to open your wallet all week! By making this retreat all inclusive, we hope to take your mind off everything but songwriting.
---
Tuition & Payment Information
Tuition is $1500 and covers absolutely everything you can think of from arrival to departure.
The payment process: Once your application and deposit have been received, Dar and the staff will review your application and we will issue you a letter of acceptance within 24 hours, outlining all your payment plan options. If you have not chosen a payment plan within two weeks of acceptance, your balance payments will be automatically charged using the two installment plan option. If we are unable to accept you into the retreat, you will be notified by email and your deposit will be fully returned. We hope that by offering many secure payment options where you can stretch out your payments to suit your financial situation that we can take the worry away and focus on the fun stuff – you joining Dar and the rest of us for an amazing week!
Scholarships: Many people ask us about scholarships. We are not set up with scholarship funds for first timers, but for returning retreaters, the AFAR (Anonymous Friends Aiding Retreaters) fund exists. It was started for and by retreaters wishing to chip in to help others experiencing financial obstacles return to the retreat. Contributions options are listed on the payment page if you want to help a songwriter in need.
Cancellations: For accepted applicants wishing to cancel their attendance at the retreat, deposits and payments already submitted are non-refundable, so please notify us immediately if this is the case and we will put a halt on all future payments.
---
Lodging
All rooms are single private rooms with a common bath down the hall. (Double rooms are available upon request.)
Clean sheets and towels are provided upon arrival. There is no daily housekeeping service, but to be clear, this isn't like camping. The former monastic accommodations are simple, clean and beautiful. The GI provides room fans and a venting system. Common group rooms have a cooling system for comfort. The Garrison Institute is located in a safe, rural environment, so the monks who built it didn't find the need for locks on the doors. We have never had a problem with this. (Please let us know if you need to store valuables or refrigerate special meds and foods or have any special needs.) There is wifi in the building, with common areas having the strongest signal.
The second floor lounge has a computer to print the first copy of your lyrics if you are planning to share them with Dar or a workshop. You may print remaining copies at the main floor alcove printer and note the amount to the retreat tally on the printer. Please note that in the interest of preserving our environment, we request you print double-sided lyrics and make as few copies as possible (half the amount of your workshop group is usually fine).
For more information on the facility and grounds, click here.
---
Arrival and Departure Information
Check in is Monday between 10AM -1PM in the lobby of the GI. There is free shuttle service from the Garrison train station for all trains arriving during that window. We will be waiting for you in the lobby with a Dar swag bag and a smile! If you arrive before 1 PM, feel free to stroll the extensive grounds, discover a magical nook for you and your journal or guitar, rest up in your room or connect with other songwriters until lunch time. We'll meet for lunch at 1 PM and get started with Dar at 2:30 PM in Meditation Hall.
Our retreat concludes Friday at 12 PM. We offer free shuttle service from the Garrison Institute to the train station after that time.
Directions: Whether flying, driving or taking the train, the Garrison Institute is easily accessible. It's a little over an hour north on the Metro North commuter train from Grand Central to Garrison, where the GI shuttle will meet all trains arriving during registration hours (10-1 PM). If you are flying to any of the three major NYC area airports, we can give you your transportation options to Grand Central. If you are driving, please use the address of the neighboring Highland Country Club at 955 Route 9D, Garrison, NY 10524 in your GPS to guide you to the Garrison Institute's entrance next door to the south on Route 9D. For additional information on transportation, click here. Side note on transportation: We would be happy to shuttle you or pick up whatever needs you have throughout the week, discreetly if necessary, be it drugstore, grocery, ice cream parlor or liquor store, all of which are a few miles north, in Cold Spring. Also, transportation to any of our optional field trips will be provided.