July 10- July 14, 2023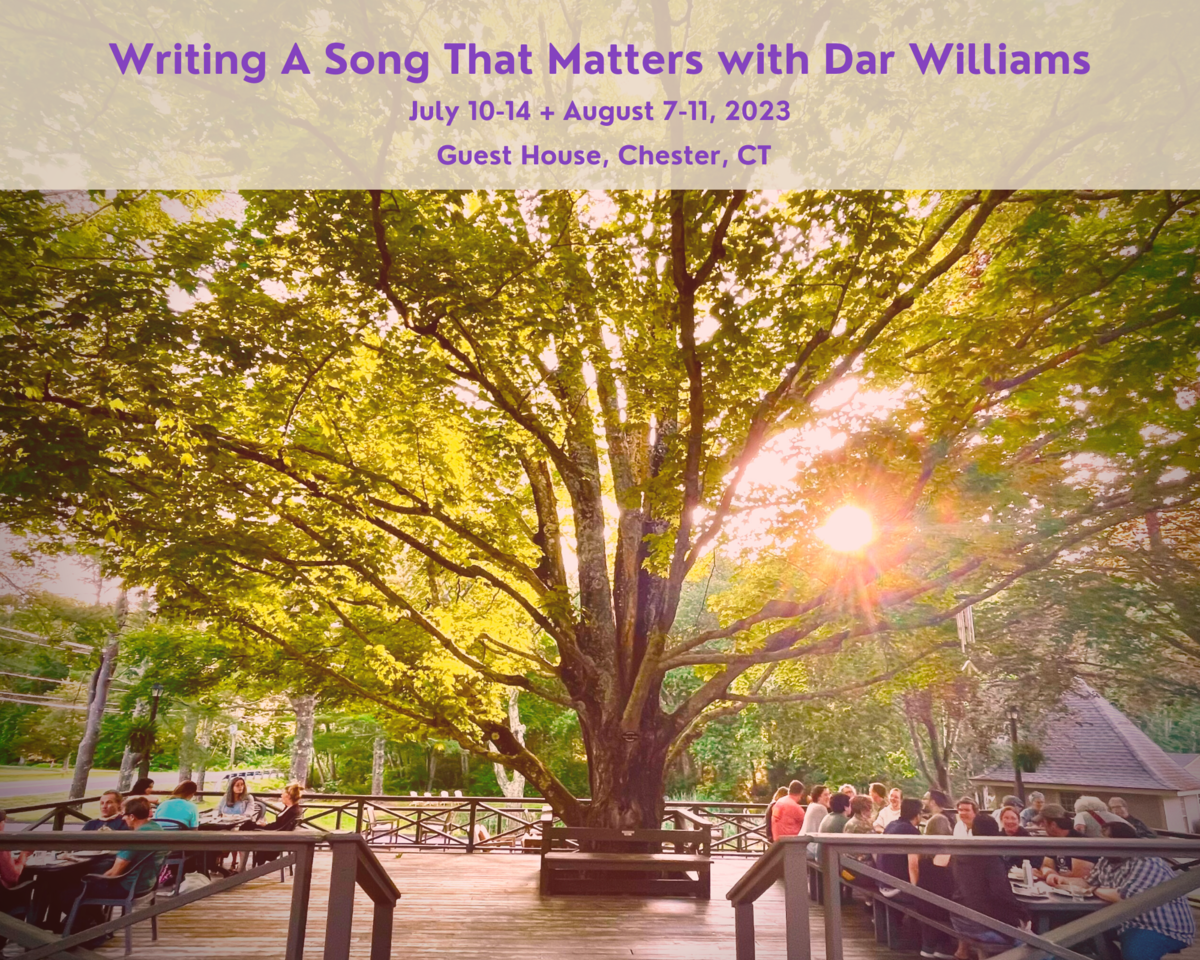 SOLD OUT
Welcome to Writing a Song That Matters with Dar Williams! We are excited to see you in the new year.
July 10-14 2023 SOLD OUT - click AND email us to be added to the WAITING LIST
Writing a Song That Matters with Dar Williams & special guests, Susan Werner + Guy Davis / Guest House, Chester, CT
Monday, July 10, 2023 to Friday, July 14, 2023
Please join us at the beautifully appointed Guest House, a historic inn-turned-retreat-center exactly halfway between Boston and New York City and a shuttle's-distance from Amtrak/Metro North trains. Dar and her team of songwriters will be there to guide and support your songs (plus half-songs, and song ideas) at our new home, with its walking trails, big rooms for meeting and singing, great meals, and lovely accommodations.
Join us for:
morning yoga (optional)
group vocal coaching
evening song circles
private one-on-one song consultation with Dar
songwriting workshops
musical narrative workshops
daily song inspiration, prompts and Dar song breakdowns
song collaboration nature for contemplation and inspiration
fresh, locally-sourced meals
beautifully appointed rooms with private baths, wifi and AC
plus tea and coffee all day, and music 24/7
We welcome all levels of songwriters over age 16. (Please note that for applicants age 16-18, we require written parental consent.) We have had the pleasure of supporting a diverse song circle, including: poets looking to convert their work into songs, beginning guitarists, seasoned instrumentalists and singers, touring musicians and everyone in between. We will be focusing on the craft of songwriting and will meet you where you are as a songwriter. All Dar asks is that you have written at least one song in your life and have the desire to write more and hone in on saying what you really want to say. You can come with fully written songs you want to refine, shards of lyrics or melody ideas or just be open to working on new song ideas.
There will be an a la carte menu of workshops in songwriting, vocals and instrumentation and evening song circles daily so you can shape your retreat week the way you want to, leaving more or less time for nature, contemplation, writing, listening and collaborating with others. In addition, all retreaters will have an opportunity for a one-on-one private song consultation with Dar – a really special experience that we've been told is a highlight for many. Space is limited (we cap our retreat group off at 48) so we can all get to know each other better and Dar gets to know you and your music too!
ARRIVAL
Check-in time is Monday 11-1 PM. We will meet in the dining hall for lunch. We will get started with introductions following lunch in the White Barn.
ACCOMMODATIONS
This year, we are offering more rooming options and different price points as well as our friendly installment plan. The rooms at Guest House are spacious and well appointed with AC and thermostat controls and private baths. All meals, workshops, yoga, shuttles and fun are also included. Elevator access is available to all if stairs are a problem for you. Please let us know if you have any mobility issues or require a handicapped room.
Single with private bath - $1750
Double with private bath - $1550
Triple room with private bath - $1425
If you are choosing a double or triple option, please let us know via email who your roommate(s) will be. If you do not have a roommate in mind, we will do our VERY best to fulfill your rooming request. We will select a roommate for you who identifies as the same gender as yourself. In the event that we are unable to secure a roommate for you, please be advised that you will be responsible for paying for the upgrade to a single or double. For more about the rooms, click here.
INTERNET
There is facility-wide high speed wifi.
FOOD
The chef and culinary team at Guest House work with fresh and locally sourced whole foods and seek to accommodate dietary restrictions and allergies. (We will ask you about this.) We'll provide three buffet meals daily in a beautiful historic barn. In the evenings, we will also have snacks and beverages available after evening song circle in a casual party atmosphere that usually leads to another song circle afterwards for those who want to stay up late, swapping songs. Additionally, there is a refrigerator available if you find it necessary to bring some of your own food or you need to store medications. For additional information regarding Guest House's dining information, click here.
WHAT TO BRING
All linens are provided as well as AC and room fans if needed. There is no housekeeping service during the week. We recommend comfortable summer clothes and walking shoes, sunglasses, sun hat, water bottle, mosquito repellant, an umbrella, yoga clothes and mat (note that yoga is optional and there is a nominal charge for mat rental), a mask for hallways (see Guest House site's COVID protocols). Some people like to bring shower flip flops and a robe. Also, we will be near beaches, so if you have a car, you may want to bring your swimsuit and beach towel! As far as songwriting supplies go, we suggest bringing your instrument(s) of choice, a device such as a phone or laptop to record ideas or work with lyrics, a journal/notepad and pen. If you are bringing a keyboard, please bring headphones/earbuds to be considerate to other musicians while you're working.
WHO WE ARE
This is a songwriting retreat that fosters an inclusive environment regarding gender identity, sexual orientation, age, race, religion, or ethnicity. We aim to be a microcosm of what we want to see in the world, so we expect all attendees to be respectful and kind to each other. Luckily, this is something that seems to come naturally to our songwriting community!
SAMPLE RETREAT DAY
8-9 AM Yoga (all levels, optional)
9-9:30 Breakfast
10 - 10:45 Dar song breakdown, inspiration and prompts
11:15 -12:45 Workshops in songwriting, vocals, instrumentation, collaboration
1 - 2 Lunch
2:30 - 4 Workshops in songwriting, vocals, instrumentation, collaboration
4:15 - 5:30 Workshops in songwriting, vocals, instrumentation, collaboration
6 - 7 Dinner
8 - 9:30 Evening Song Circle (everyone)
9:30 - 11 Snacky Soiree
11 PM + After hours song sharing
DIRECTIONS
Guest House is 2 hours from both Boston and New York and close to Amtrak and Metronorth train lines. For driving directions, flight information and car service information, please click here. We will provide shuttle service from nearby trains.
COVID SAFETY
Our retreat group requires all attendees to be fully vaccinated and tested prior to arrival. For current Guest House COVID protocols click here. We will have sanitizing stations set up in the building, crack windows where we can, and nature will be our friend.
DEPARTURE
The retreat ends at noon on Friday. Please check out of your room folllowing breakfast that day so the Guest House staff can send housekeeping in. Our closing song circle will be from late morning. We will provide you further instructions about check out closer to the date.
Please explore the Guest House site and get familiar with all it offers. We are very excited to celebrate our 11th year this summer!
If you have any additional questions, please don't hesitate to email us.
We hope you can join us this summer!
THIS EVENT IS SOLD OUT