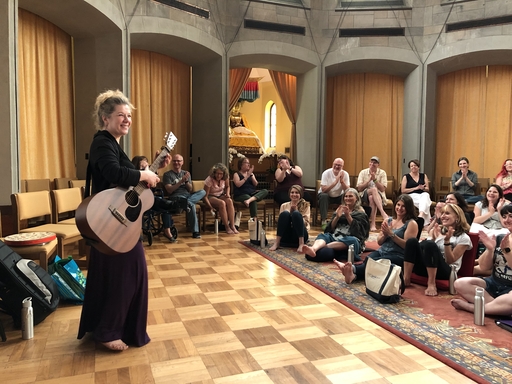 WRITING A SONG THAT MATTERS
with Dar Williams
JULY 6-10, 2020 (Sold Out)
AUGUST 17-21, 2020
at the GARRISON INSTITUTE
$1500
We welcome you to join us for:
Singing and song sharing
Songwriting
Private song consultation with Dar
Yoga (optional)
Workshops (guitar, voice, song sharing)
Special surprise guests
Inspirational natural setting and field trips
Delicious farm to table meals
Gorgeous Hudson River views
This will be our 8th summer and 14th and 15th retreats at Writing a Song That Matters! We're incredibly grateful for the many returning songwriters that have become like family, the new retreaters who have taken a chance with us and the positive and useful feedback we have gathered as we continue evolving. Many new songs and deep friendships have been born from our circle and we have a very active, supportive and engaged community of songwriters who share their magic all year long.

A Letter from Dar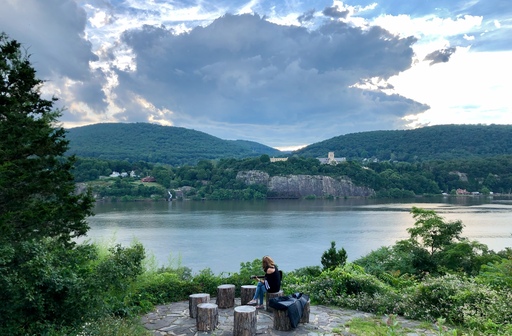 Welcome!
This workshop is for anyone over 16 (under 18 with parental consent) who wants to write a song that counts: for ourselves, for the people (or pets) we love and for the world. Our songs can be funny, heavy, catchy or sappy. We'll just be looking for ways to say what we really want to say. Your songs never mattered more. We'll explore everything from the bag of tricks we use in songwriting to discussions of why we need to write in the first place, how we can stay the course in writing, and how we can finish our songs, no matter how discouraging the voices in our heads might be.
To join us, please fill in the application, including a note about why you'd like to attend, and we'll let you know within 24 hours if you're in and send you further information on completing your registration. Space is limited to 48 for each retreat. We offer an a la carte format so you can customize your experience. There will be small breakout circles of 6-8 focusing on vocals, guitar and songs where everyone gets heard and also has that important bonding with other songwriters. I will also offer each songwriter one-on-one private song consultations. We will have optional day trips for inspiration in the local area – museums, hikes and historical buildings. The evenings will be filled with music sharing with the entire group so we really get to know each other. Both retreats will offer up the magic and beauty of the repurposed monastery on the Hudson that is the Garrison Institute, fresh farm to table food, morning yoga and plenty of nature to inspire.
You don't have to send a song, but we ask that you have completed one whole song at some point in your life. It's important for us to know that you have experienced that spark of excitement about songwriting. A trunkful of half-written songs is fine, too. I will be joined by musicians who will be around and available for help tweaking lyrics and coming up with interesting music twists.
I'm looking forward to it. See you soon!
Best,
Dar