New Retreats! - Spring Street, mini retreat and more Theme Days, single day retreats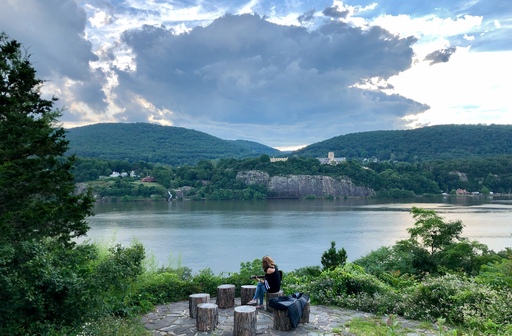 Welcome to Writing a Song That Matters with Dar Williams!
A Little Bit About Us
Dar's maiden voyage into Writing a Song That Matters was an in-person retreat experience in 2013, with a tiny team and some trusting songwriters in attendance from all over the U.S. and Canada. This leap of faith resulted in many more retreats and a year-round group of songwriters that often feels more like a community and even a family.
In 2020, finding it impossible to gather in person safely due to a global pandemic, Dar and her team organized a series of online retreats based on the retreats that they'd developed over the years at the Garrison Institute. To everyone's amazement, the deep bonds and connection were still there, even with new people remotely coming on board. People still had songwriting epiphanies and experienced growth in their writing!
That brings us to now. We look forward to more in-person retreats when safe to do so, but until then, here we are. Whether it's a one day, three day, or a five day retreat, we are still your songwriting support system, ready to welcome you if you've got a song in your heart and the willingness to honor your creativity and self-expression. We welcome diverse songwriters of all levels over the age of 16 (under 18 with parental permission) and seek to foster an environment as inclusive of all sexual orientations, ranges of gender, histories, ethnicities, skin colors, and creeds as we are of all genres and narratives.
We ask that you have written at least one song in your life before coming on board so you recognize that spark of inspiration.
Take a look around to learn more and write us here to join our mailing list so we can keep you posted on upcoming workshops and retreats.
And the blessings were like poets that we never find time to know,
But when time stopped I found the place where the poets go.
And they said, "Here have some coffee, it's straight, black and very old, "
And they gave me sticks and rocks and stars and all that I could hold,

I had the blessings, a moment of peace even when the night ends,
Yeah, the blessings, can we meet? Can we meet again,
At the crossroads of disaster and the imperfect smile,
With the angel in the streetlamp that blinks on as I walk on a mile, the blessings.

– Dar Williams, The Blessings