Writing A Song That Matters August 2024:
Guest House in Chester, Connecticut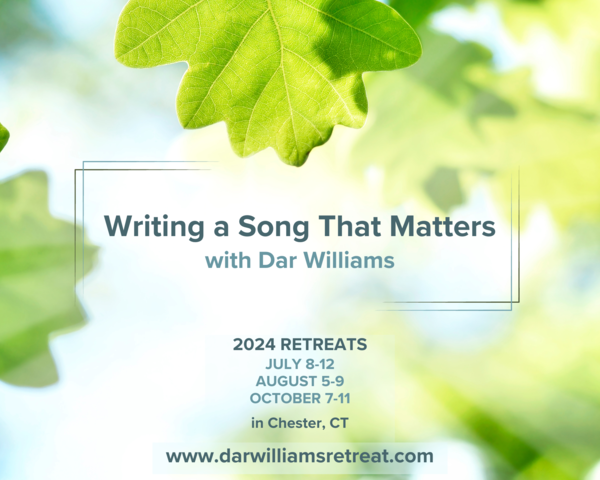 By popular demand, we are offering three (not two!) in-person retreats for 2024! Please join us at the beautifully appointed
Guest House
in Chester, Connecticut, a historic inn-turned-retreat-center midway between Boston and New York City on the train and an hour from Bradley airport in Hartford. Dar, her team of songwriters and special guest songwriters (TBA), will be on hand to guide and support your songwriting in various workshops and song circles. We'll offer morning yoga, vocal coaching, songwriting workshops, a private one-on-one with Dar, evening song circle, songwriting collaboration, inspirational field trips, coffee all day, and music 24/7. All rooms are spacious and well-appointed, with AC and private baths. The Guest House culinary team offers delicious buffet-style meals and can accommodate many dietary restrictions. We offer single, double and triple rooms with private bath at different price points and a friendly installment plan. All workshops, meals, lodgings (and fun) are included in the final cost.
Monday, August 5, 2024 to Friday, August 9, 2024
You can structure your days as you see fit, making space for solo writing and reflecting time and a workshop or two, or hitting all the workshops you can in a day for feedback on a stack of almost-finished songs. Our workshop staff will meet you where you are at – we have both novice and gigging songwriters in our circle united by the desire to keep growing.
Many people return to us year after year and describe the experience and community as life-changing. It is always a very special week and we hope you can join us for the fun.
Pricing
Single with private bath - $1725
Double with bath - $1525
Triple room with bath - $1400
Roommates
We will pair you with a roommate who identifies as the same gender as yourself if you do not specify a roommate. Please note that if things work out unevenly and we cannot find a roommate for you, you will be upgraded to the next level room and charged accordingly. Note: This rarely happens!
Payments
You can pay in full or choose an installment plan.
For payment plans: An initial deposit of $750 will be charged at registration. Two equal payments will be applied using the same credit/debit card as follows: May 1 + June 1 for the July retreat / June 1 + July 1 for the August retreat / August 1 + September 1 for the October retreat. Please get in touch if you would like us to apply your payment on a different card.
Note: We have a no cancellation policy in place, except in extreme circumstances.
If we are full, please ask to be added to our wait list! Simply write us at: darwilliamsretreat@gmail.com
Answers to commonly asked questions
Check-in is 11-1 PM Monday and checkout is at 12 PM Friday. (Lunch is our first meal and breakfast our last meal.)

All attendees must send us proof in advance of basic COVID vaccination.

Shuttle service is available to and from the Old Saybrook train station during registration and upon conclusion of the retreat.

Open to attendees over 16 years of age (16-18 with parental consent).

Sample schedules available upon request.
Have more questions? Please reach out to us at darwilliamsretreat@gmail.com