MANY STARS THAT GUIDE US:
Online: Zoom / Streamyard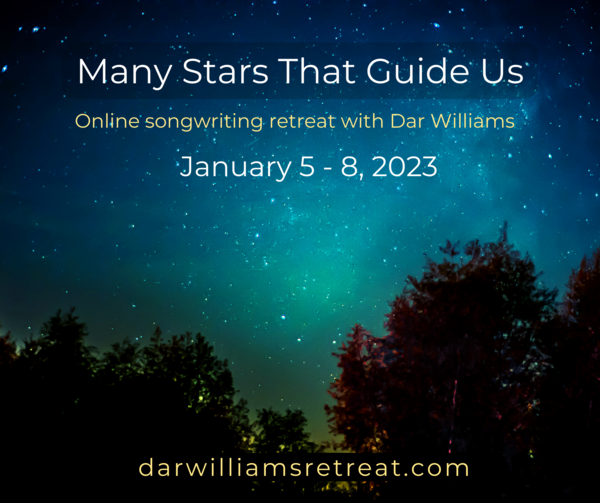 Join Dar and our retreat team songwriters, ushering in the new year with our supportive and fun-loving music community. Our days will include a menu of options like morning inspiration, yoga, song breakdowns, songwriting circles and evening song performances. Basically, all the fun and connection we enjoy during our in-person retreats. (Even an after-hours song circle and a virtual lunch hang.) You can balance your writing, reflecting and connecting (or reconnecting!) with each other as you feel it each day.
Thursday, January 5, 2023 at 8PM EST to Sunday, January 8, 2023 at 4PM EST
Sample Day
9 - 9:15 East coast coffee with Dar, daily themes/prompts/inspiration (Dar's Zoom room)
9:15-45 Yoga (Zoom)
11:00-11:45 Dar's song breakdown + review of daily themes/prompts/inspiration (Streamyard)
12:30-2:00 ZOOM workshops : circles focusing on lyrics, music, message
1-2 ZOOM lunch room hang (Kellie's Zoom room)
2:30-4 ZOOM workshops : circles focusing on lyrics, music, message
4:30-6 ZOOM workshops : circles focusing on lyrics, music, message
8:30 Evening Song Circle w/Dar and retreaters presenting original songs (Streamyard)
After The unofficial song circle after song circle (Kellie's Zoom room) open song sharing
THIS EVENT IS SOLD OUT